National Athletic Training Month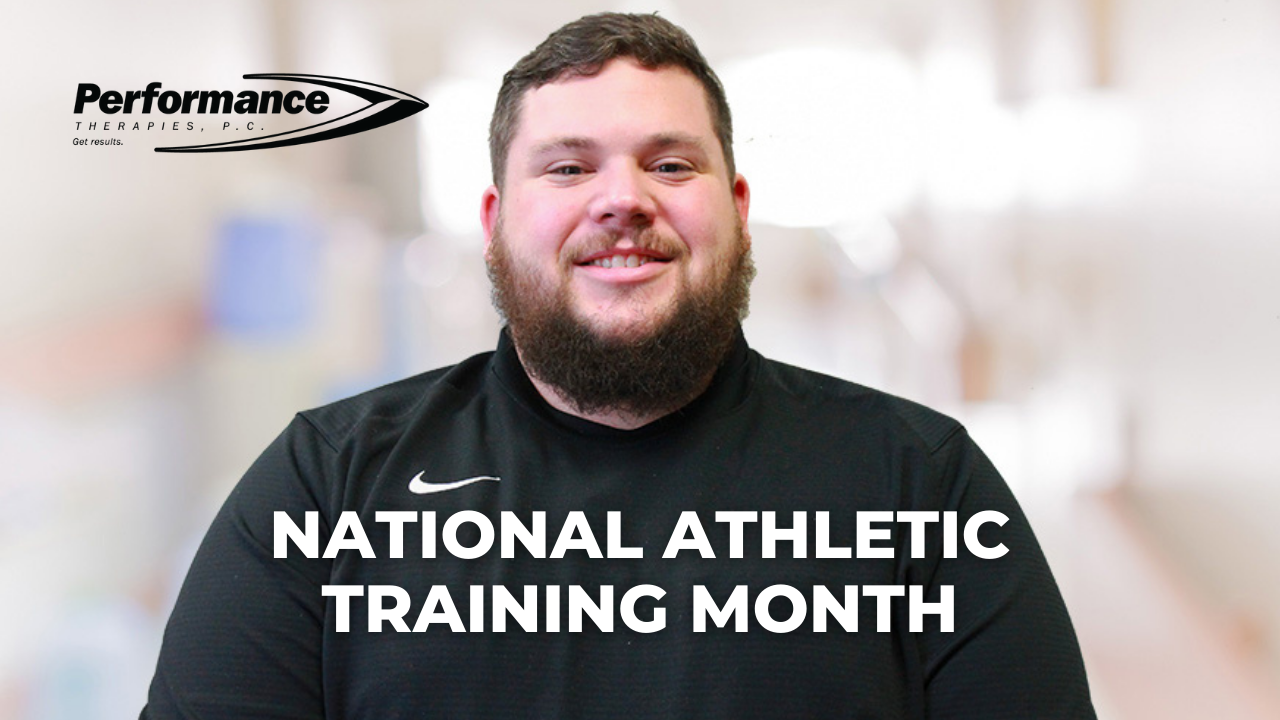 March is National Athletic Training Month!
During National Athletic Training month, we recognize & honor the athletic trainers and all of the hard work they do. Their unique set skill as an athletic trainer is to ensure every athlete, under their care, is well taken care of. We are lucky to have many athletic trainers and physical therapists at Performance Therapies.
Meet one of our Athletic Trainers, Logan!
"How did you get into athletic training?"
I grew up in a small town of Montezuma Iowa. While in high school, I played many sports. In football I tended to have several injuries. Due to not having an athletic trainer, I would just play through the injury. Going into college, I started out as an open option student focusing in on business. Mary Meyer, the Iowa State Volleyball Athletic Trainer, came to talk to our class. After hearing her talk about athletic training, I was hooked and changed my major that day!
"What did your journey look like to get you to Performance Therapies?"
My athletic training journey starts at Iowa State University. My first experience with athletic training was ISU Football where I was able to work with the team through the 2016 season. Following that year, I was able to get a summer internship with the Arizona Cardinals. I was able to work with the Iowa state gymnastics team and the Iowa State wrestling team. Following graduation, I received an internship working University of Michigan Football for the 2019-2020 season. While I was at Michigan, I was able to complete my master's through Cal U of PA. After Michigan I was able to start my first full time Position with Valparaiso University working with baseball and football. After a year and a half at Valpo, my wife and I decided to move back to Iowa. This led me to Performance Therapies.
"What are your favorite moments while working as an Athletic Trainer?"
One of my favorite moments from my athletic training career is my year working at Michigan. I loved working with that staff, the relationships I made while I was there, and building the type of athletic trainer that I am now at Performance Therapies.
Another one of my favorite memories is watching my first big rehab that I was able to work with from the beginning to end. I was able to watch an athlete get back on the field and make a big play.
Lastly, is the interesting places and stadiums that I have been able to see such as, the Hall of Fame Game, the first game in the Falcons new stadium, New Orleans, Big 12 wrestling championship, Penn State for a white out game, Citrus Bowl, Dallas, and San Diego.
You may find Logan out of the field/court with the young athletes or behind the front desk at our Coralville clinic. He is a friendly face who always puts the needs of clients first. We are lucky to honor him this month during National Athletic Training month!