February: National Cherry Month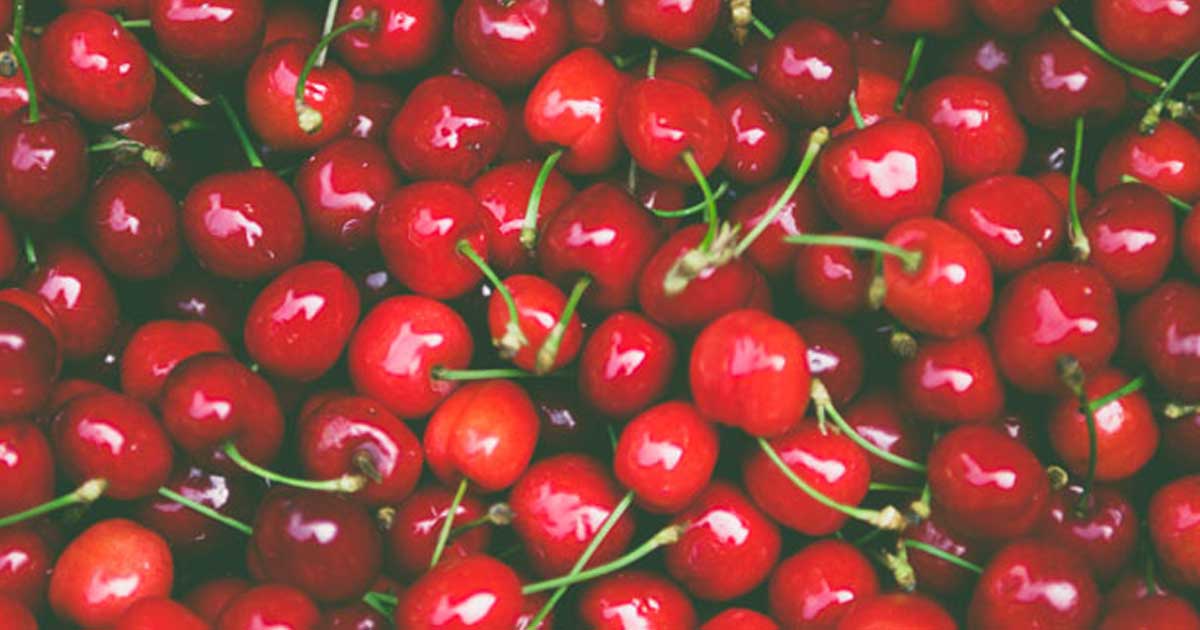 When I think of sweet and juicy cherries, I think of summer. While most people enjoy cherries during the summer since their season is May-August, February is actually National Cherry month. It was established to help bring awareness to the availability of the fruit throughout the year.
These nutrient dense treats are delicious, and can be used all year round to boost your meals and snacks. Both tart and sweet cherries are a good source of vitamins A and C, and fiber to strengthen your body's immune system and improve overall health. They are also good sources of antioxidants which help reduce inflammation in the body. Specifically, tart cherries are rich in antioxidant compounds that have been studied as recovery post-exercise. Tart cherry juice has been shown to reduce muscle aches and speed recovery post workout in multiple studies.
Most people think of cherry pie when they think of using them in recipes, but cherries can be used as part of sweet or savory dishes.
Here are some ideas of ways to include cherries in your day:
-Add tart cherry juice to a smoothie for a post-workout recovery drink
-Add dried or fresh cherries to oatmeal, yogurt, or nuts
-Add cherries to leafy green or grain salads
Hungry yet? Try these delicious recipes that feature cherries:
Quinoa Salad with Cherries and Feta
Makes 4-6 servings
Ingredients
– 2 cups cherries
– Kosher salt
– 2 cups quinoa
– 3 tablespoons minced shallot
– 3 tablespoons red wine vinegar
– 4 tablespoons olive oil
– 1/2 cup minced flat-leaf parsley
– 1/2 pound feta cheese, crumbled
– 1/4 cup toasted slivered almonds
Directions
1. Pit the cherries into a small mixing bowl, and let sit while you make the quinoa.
2. Bring a large pot of water to a boil. Add the quinoa to a fine-mesh strainer, and rinse thoroughly under cool water. Add the quinoa to the boiling water, and cook for 6-8 minutes, and strain.
3. Add an inch of water to the quinoa pot, set the strainer (with the cooked quinoa still in it) inside the pot; make sure the quinoa doesn't touch the water. Cover with the lid, turn the heat up to high, and steam for 3-5 minutes, or until the quinoa is tender and no longer waterlogged. Put cooked quinoa in bowl.
4. Slice the pitted cherries into thin rounds, and set aside in another small bowl. Add the minced shallot, red-wine vinegar, olive oil, and 1/2 teaspoon salt to the bowl that the cherries were pitted into. Whisk to combine.
5. Drizzle the dressing over the warm quinoa; add the parsley, feta, and almonds; and toss to combine. Serve at room temperature.
Tart Cherry Pecan Bars
Makes 9 bars
Ingredients
– 1 cup dried Montmorency tart cherries, coarsely chopped
– 1/2 cup oat flour
– 1/2 cup sugar
– 1 1/2 cups gluten-free oats
– 1/2 teaspoon salt
– 1/4 teaspoon ground cloves
– 1/4 teaspoon ground cinnamon
– 1 cup pecan halves, coarsely chopped
– 1 cup coconut flakes
– 1/2 cup melted butter
– 1/4 cup honey
– 1/2 cup almond butter
– 1 teaspoon vanilla extract
Directions
1. Preheat the oven to 350°F. Line an 9″ x 9″ pan with parchment paper. Spray paper and any exposed pan with baking spray.
2. Combine dry ingredients in a large mixing bowl.
3. In a saucepan over med-low heat, melt the butter. When the butter is almost melted, add the honey and almond butter. Stir slowly to combine. Add vanilla after the other wet ingredients are combined.
4. Pour wet ingredients over bowl with dry ingredients. Stir to combine wet and dry. Add to pan. Push down into pan, pressing with fingers. Bake 30-40 minutes until firmly set.
5. Cool on counter. Refrigerate for 30 minutes to set. Cut into 9 rectangles.