Go Further with Food to Celebrate National Nutrition Month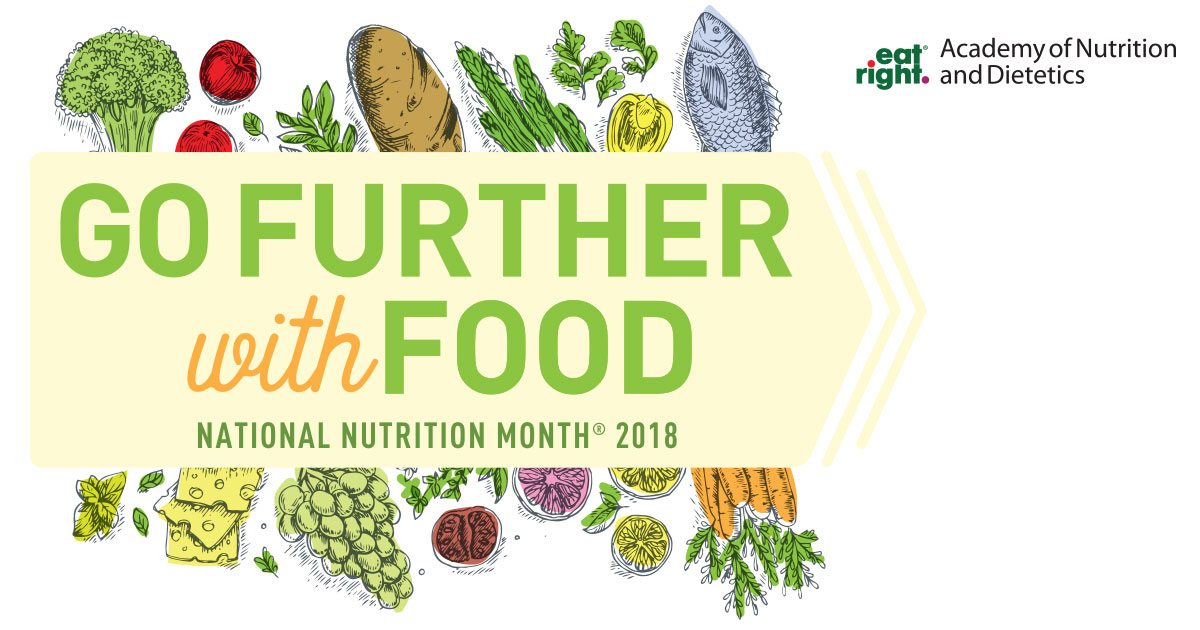 Learning to eat not only for nourishment, but enjoyment is an important part of developing sustainable healthy eating habits. March is National Nutrition Month, a campaign created by the Academy of Nutrition and Dietetics (AND). The focus is on the importance of making informed food choices, and developing sustainable eating and physical activity habits. The theme "Go further with food" encourages individuals to understand the benefits healthy eating habits offer, but also find ways to cut back on food waste. Approximately 90 billion pounds of edible food goes uneaten each year, which costs consumers $370 per person each year (source). Reduce food waste in your home with a few simple changes. Plan your weekly menus, make a corresponding grocery list, re-purpose leftovers, freeze extra food, keep your pantry and fridge organized, and try out composting your food.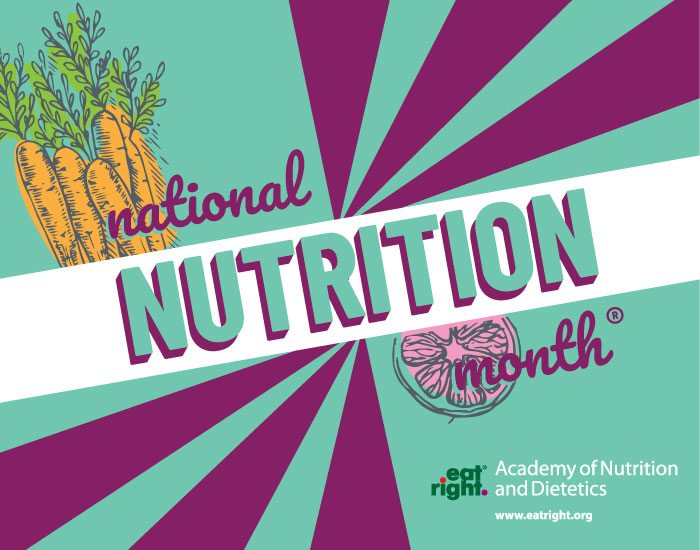 The key messages this year are:
Include a variety of healthful foods from all of the food groups on a regular basis.
Consider the foods you have on hand before buying more at the store.
Buy only the amount that can be eaten or frozen within a few days and plan ways to use leftovers later in the week.
Be mindful of portion sizes. Eat and drink the amount that's right for you, as MyPlate encourages us to do.
Continue to use good food safety practices.
Find activities that you enjoy and be physically active most days of the week.
Realize the benefits of healthy eating by consulting with a registered dietitian nutritionist. RDNs can provide sound, easy-to-follow personalized nutrition advice to meet your lifestyle, preferences and health-related needs.
Registered dietitian nutritionists (RDNs) go through rigorous coursework and internships to be able to translate credible, evidenced-based nutrition information into practical solutions for the public. The majority of the public turns to unreliable and non-credentialed sources of nutrition information instead of the nutrition experts. March 14, 2018 is Registered Dietitian Nutritionist Day, created by the AND to increase the awareness of RDN's as the indispensable providers of food and nutrition services and their commitment to helping people enjoy healthy lifestyles.
I have had many questions about the best websites to get recipe ideas and nutrition information. It is important to turn to sources of credible information, and many dietitians have blogs to provide just that. Here is a list of my favorite RDN's blogs for recipes and nutrition information: